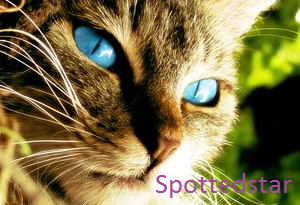 Spottedstar is a slender, lithe, brown spotted tabby she-cat with clear, brilliant blue eyes.
She is the Leader of LeopardClan.
Rped by Hawkmask121
Personality
Edit
Wise, kind and gentle, but can get very fierce and stern. Can be very outgoing, and loves to explore.
None.
Ad blocker interference detected!
Wikia is a free-to-use site that makes money from advertising. We have a modified experience for viewers using ad blockers

Wikia is not accessible if you've made further modifications. Remove the custom ad blocker rule(s) and the page will load as expected.